LEONARD BAILEY'S
1877 Patent Model
for the No.1 Victor Block Plane
by Philip Whitby
(Webmaster's note: This article was scanned from the Spring 1998 issue of ToolTalk.)
In 1869, Leonard Bailey was contracted to produce tools in Stanley's factory in New Britain, Connecticut and remained there about 4 years until termination of his contract in 1873. At that time, he established himself as L. Bailey & Co. in Hartford, Connecticut.
Because Bailey was not allowed to produce planes under his seven patents that had been licensed to Stanley, he set about acquiring new patents for a radically different line of planes to be called the "Victor". It is among these new ideas that he was granted Patent No. 189,415 for an improvement in bench planes. The Patent Model was submitted to the United States Patent Office on February 16, 1877 and is shown in the photograph below.
The model itself is not a functional plane and was not intended to be. It shows the adjusting mechanism that is the essence of the patent in reverse, or a mirror image of what was later to be produced as the Bailey gear adjuster. The reason for this was apparently so the patent inspector could examine the mechanism and its various parts without having to disassemble the model. A flat gray/green paint covers all exposed surfaces of the model, so no particular part is more prominent than another. Because Bailey was experienced at applying for patents, he knew what the patent inspector would want to see, and this model meets that criteria.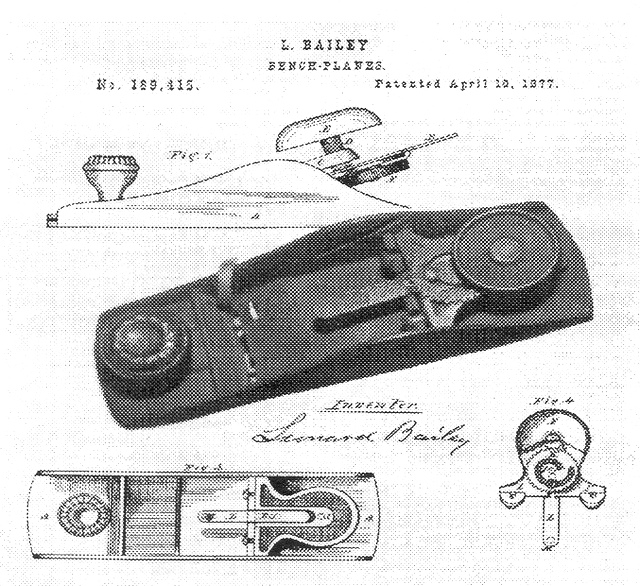 ---
On April 10, 1877, Leonard Bailey was granted his 19th patent for an improvement in bench planes. This was his 17th patent for carpenters tools. His first was issued to him in August 1855 when he was 30 years old.
In all, Bailey was granted 43 patents. Twenty-two were for carpenters tools and twenty-one others were for a variety of copy presses and office machinery.
Seven of Bailey's first patents were licensed to the Stanley Rule and Level Company in May of 1869. This group of patents formed the substantial beginning of what have become known in the trade as the "Bailey" plane, produced by Stanley and other companies continuously for over 125 years.
Phil Whitby is a long-time member of P.4ST. His store, The New Boston Tool Room is in Kingston, NH. It's open seasonally and by appointment. For more information, call 603-642-4054.
For 3 Sale Catalogs of Good Stuff, send $10 to: P.O. Box 1003 Kingston, NH 03848.
Photo by PAST member John Goss