COMBINATION TOOLS
A PAST VIEWPOINT
The Matthews "Never Stall" Monkey Wrench Combination Tool was made and marketed by The Thomas Mfg. Co. of Dayton, Ohio. The Patent No. was 933,860 with a Patent date of Sept. 14, 1909. It was known as the Windmill Tool. This tool was supposed to be all you ever needed when you climbed up a windmill tower. Their ads pointed out that the Windmill Tool did the work of fifteen different tools. Make that sixteen counting bodily injury.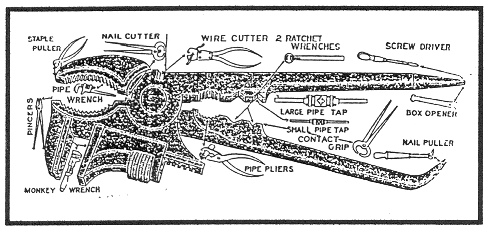 Over the years, combination tools have been patented by the thousands as the ultimate handyman's tool. There was obviously a market for them. They may have been satisfactory for someone who did a minimum of work. They may have been handy to take along for use "in a pinch". But no matter which function of the tool was being used, some other projecting part would pinch, gouge, mash, cut, or injure the fingers of the person using the tool. This could explain why so many combination tools are found in such good condition. After the injury, the tool was never used again.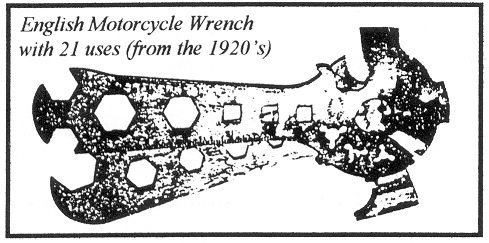 -Onie Sims is a long time member of PAST. He collects Barb Wire, fencing tools, wrenches, pliers and combination tools.