Pacific Saw Company
by Larry Brundage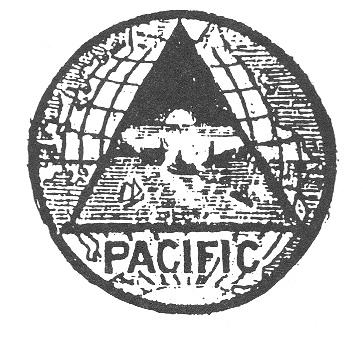 ---
(Webmaster's note: This article was scanned from the Summer 1996 issue of ToolTalk. )
Curious Logo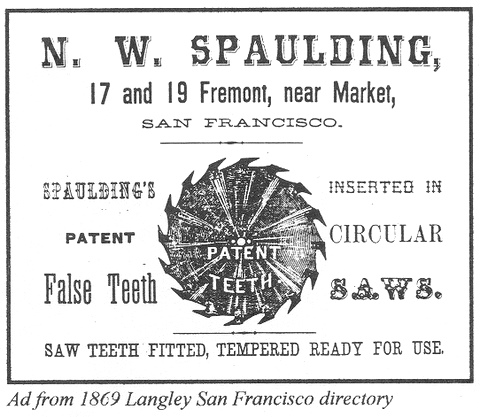 A number of years ago I bought a hand saw with a curious logo etched on its surface. The size of the logo was one and one-half inches in diameter representing the globe with lines of latitude and longitude. There was a triangle imposed on the surface; in the triangle was a setting sun. Land was on either side with vessels heading towards the sun. A close study revealed that the mass on the left was Fort Point at the entrance to San Francisco Bay, and the object on the right was a lighthouse on the Marin headlands. It was, in fact, a picture of the opening to San Francisco Bay (the Golden Gate). At the base of the triangle was the word "PACIFIC". I assumed it was a saw made elsewhere for a California hardware company, and added it to its brothers piled in my saw bin.
Old Advertisements
While doing research at the state library in Sacramento I chanced upon an 1869 San Francisco directory with an advertisement extolling the products of the Pacific Saw Manufacturing Co., and the N. W. Spaulding firm, both located at 17 and 19 Fremont Street (now a transportation hub).
Possibly my saw was made in California. After years of research I felt that it was made in San Francisco, circa 1866-1905, by the Pacific Saw Co.
Company Origins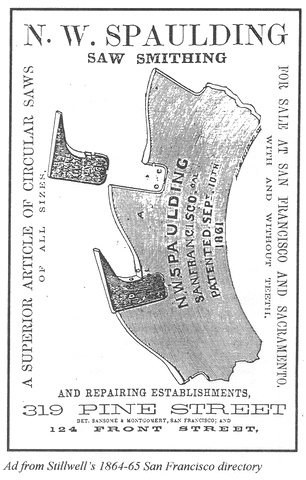 The firm, Pacific Saw, was founded by three experienced saw makers. They were James Patterson, a native of Scotland, Charles P. Sheffield of England, and Nathan W. Spaulding, a native of North Anson, Maine. In the 1850's, prior to forming a partnership with Patterson and Sheffield, Nathan Spaulding and another forty-niner from Maine, James Emerson, had a saw smithing shop on Front Street in Sacramento, and later a branch shop in San Francisco.
"False Teeth"
This partnership dissolved unhappily about 1861, with Emerson relocating to Trenton, NJ, where he was soon once again in the saw business. Spaulding remained in California making "false teeth" for circular saws (this is what both Emerson and Spaulding called their inserted circular saw teeth). With his brother Marcellus running the Sacramento shop on Front Street, Nathan Spaulding opened a second shop at 113 Pine St. in San Francisco in 1861.
Charles Sheffield and James Patterson knew each other before coming to California. Both had worked at the George Stead Saw Shop in Baltimore, MD. The evidence is skimpy, but it seems that Sheffield, upon arriving in San Francisco in 1850, went to the Sierras and worked at a saw mill. On returning to San Francisco he met Patterson again and they started a sawsmithing business together at the comer of Battery and Jackson streets in San Francisco in 1863. They made the first mill saws in the state, one being 11 feet and the other 12 feet.
New Partnership
In 1866 Spaulding, Patterson and Sheffield decided to join forces and they opened at Spaulding's old shop at 113 & 115 Pine St. After two years at this location they needed to expand as business was evidently good; so they built the plant shown at 17 & 19 Fremont St.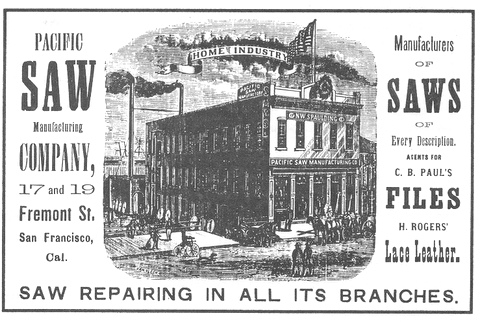 It is hard to visualize now, but the area near the Ferry building, both north and south of Market St. was a smoky, heavily industrialized section of the city, with many - machine shops and foundries creating a smoky haze that is very visible in old photos. (See lithograph of the plant to the right.)
I have not been able to find sales invoices of the firm to ascertain with certainty the types of saws they made, but three of their saws are shown in a publication (circa 1882). They are a steel-back pruning saw, a curved pattern pruning saw and a wood saw called "The Boss". The 1870 industrial census states that their 35 men and 1 youth produced $66,000 worth of circular, mill, and other saws and handles, plus other goods that year.
I doubt that carpenter's hand saws were a very large percentage of their business, as the city had many large hardware firms and no doubt Disston's growing firm was a tough competitor. Henry Disston does give Nathan Spaulding credit for inventing the first satisfactory method for installing inserted circular saw teeth (this being mentioned on page 15 of the Disston booklet, "The Saw in History", 8th edition, reprinted in 1978.
The business was still active until the 1906 earthquake destroyed the area. Of the principals Charles Sheffield died in 1889, and Spaulding in 1903. James Patterson was the president in the last entry I found.
Larry Brundage, from Redwood City, is a long- time member PAST. He is a tool historian and a frequent contributor to ToolTalk.